gutter cleaning & inspection services
Puts You In Charge of The Schedule
Inspection Services at No Additional Cost
Gives You Peace of Mind and Frees Up Your Time
Growing A Gutter Garden?
WE CLEAN GUTTERS
Stay off the ladder. Stay Safe.
We'll clean your house gutters and do a free inspection while we're there.
Gutter Cleaning & Inspection services
Our Gutter Cleaning and Inspection Services and Gutter "Tune Up".
The best solution for keeping your gutters and downspouts clean year round is our Gutter Tune Up and twice yearly Gutter Inspection and Cleaning. Gutter Techs trained technicians eliminate the hassle of maintaining your gutters and downspouts. It's simple, easy, affordable and flexible.
We recommend twice yearly service and we come out at your request and your convenience.
Our Myrtle Beach Gutter service:
Examination of gutters for any needed maintenance.
Repair small issues at your request (nailing gutters to wood, reattaching downspouts, sealing…).
Examine fascia & soffit for potential water damage.
We report any issues when we visit.
If a problem arises just call us and we will prioritize your repair.
Stop potential problems early!
Our Gutter Inspection and Cleaning and Gutter Tune Up is for:
Home Owners
Property Managers
Home Owner Associations
Property Managers
Rental Agencies
Real Estate Professionals
Commercial Building Owners
You get all of this for a customized price. We take away the worry, hassle, and inconvenience of having your gutters cleaned.
Free Gutter Inspection and Cleaning and Gutter Tune Up Quote
It's so easy. Call us or get a fast and free quote with the easy form below and we will contact you for your FREE Gutter Inspection and Cleaning Quote.
Our Myrtle Beach gutter inspection & cleaning and Gutter Tune Ups are customized for your home or commercial building. Whether you are a commercial property owner, HOA or property management company with a variety of types of buildings, or a homeowner looking to save you time and money while protecting your sub roofs, foundation, windows, siding, landscaping and more. Avoid costly repairs caused by neglected gutters with Gutter Techs maintenance plans. 
For immediate quotes use the fast and Free Quote Form below. Thank you for choosing Gutter Techs!
Thinking of Doing It Yourself? CAUTION!
Get Off The Ladder! Let Gutter Techs install, repair and clean it for you.
DON'T DO-IT-YOURSELF (DIY)! 
When Popular Mechanics' "expert DIY guy" lists roofing/guttering as one of the top five "don't do-it-yourself projects," it's worth noting. And when "Ask the Builder's" nationally syndicated newspaper columnist (and DIY enthusiast) Tim Carter joins in taking homeowners down from the roof, it's time to put away the ladder and pick up the phone. Rely on Gutter Techs, your Myrtle Beach gutter and home improvement company to install your gutters or just tackle your gutter cleaning or repairs. Most importantly, leaving guttering jobs to us saves you the very real risk of serious injuries, and even death.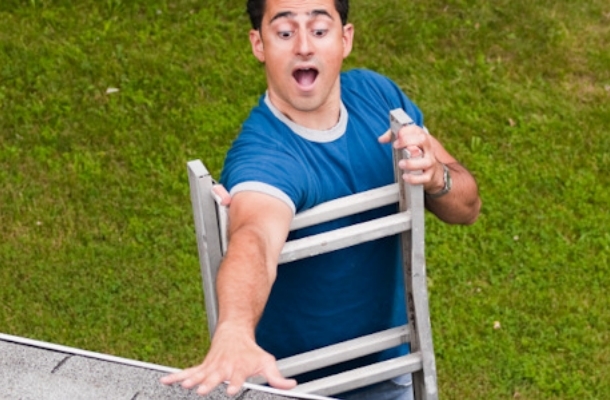 According to the U.S. Consumer Products Safety Commission, about 165,000 Americans require medical treatment for ladder-related injuries each year. Based on a 1990-2005 study published in the American Journal of Preventive Medicine, that number is escalating. During the course of the study, from beginning to end, the number of reported cases in which Americans were hurt in incidents involving ladders climbed by more than 50 percent.
Other ladder-injury findings from the study: